John Saumarez Smith - Bookseller
23 May 1943 to 15 November 2021
Tribute from his children, Joe and George, at his funeral at The Charterhouse Chapel on 9 December 2021.
George
We have been overwhelmed for the past three weeks with all the lovely things said about our father. We always knew how appreciated and loved he was by so many people but it has been wonderful to hear so many fantastic stories about him. We could have easily filled the Chapel twice over today and we are sorry that current circumstances meant we have had to restrict the number of people we could invite. Thank you all for coming.
Many of you will have read our father's obituaries in The Telegraph and The Times and elsewhere and, for those who have not, we have printed copies which are on the desk outside the Chapel. Some of them were more accurate than others - John would doubtless have pencilled any corrections on them in his spidery handwriting - but rather than reprise them, we thought we should talk a bit more about what he was like as a father and a husband.
I think probably all children find their fathers frustrating. There were times when Joe and I would roll our eyes and wonder how he could be quite so out of touch with the modern world. He once returned from one of his annual trips to America and described how he had sat next to a musician on the plane to New York. They got chatting and he said "You must be doing awfully well to travel in business class? What's the name of your group?". It turns out he was sitting next to Bono, on his way to perform U2's famous Concert in Central Park in front of half a million people. They got on like a house on fire and my father was sent VIP backstage tickets to the concert. Of course, he didnt go, preferring a literary party on the Upper East Side. We were outraged.
Practicality was also somewhat lacking.. His cooking efforts were restricted to fry ups and baked beans on toast on Sunday evenings. But he was very good at washing up, ideally if it was accompanied by the six letter word game. Why we never got a dishwasher still remains a mystery to both of us. Technology was not his strong point. I remember him trying to play a CD on a record player. That said, he did eventually conquer email and also mobile phones...sort of. He could make calls but receiving them was something that he never quite mastered.
Family holidays were usually dual purpose affairs. They were often chosen with the local bookshops in mind and whether they would have suitable stock for Heywood Hill. He was always delighted if he stumbled upon a bookshop he didn't know. Another major consideration was whether the local churches were up to scratch - we both remember going on many 'mystery tours' which involved going from village to village looking at monuments and brasses.
When we were young he enjoyed reading children's books to us, putting on accents for the characters which included a particularly funny Mr Clumsy that mixed both Cockney and Australian. He also collected children's books from the 1950s, which he imagined would be his retirement nest egg.
He loved planning unusual birthday parties for us. We went round the Mount Pleasant sorting office, toured The Observer and the signal box at Liverpool Street Station. Suffice to say that they were quite unlike our friends' birthday parties.
Joe
Our evenings were filled with stories from Heywood Hill, lunches at Brooks's and after work publishers' parties. Heywood Hill was at the centre of everything and even when things were at their most difficult, it was clear to us that he loved what he was doing.
He always instilled in us that it was so much more important to do a job that you loved and looked forward to than something that earned lots of money.
Another lesson he taught us was the etiquette of travel on the Underground. Legend has it that potential candidates for employment at Heywood Hill would be asked if they stood on escalators or walked up them. If they stood, there was no chance of a job at the shop. "Nobody who stands on an escalator will get anywhere in life", he said.
George and I both worked at Heywood Hill in our school holidays. Our over-riding memory is of John running up and down the steep stairs clutching a huge pile of books, which he continued doing long after he should.
His photographic memory was almost scary. Customers who hadn't been in the shop for a decade would be amazed that he would greet them by name, then rummage around on the shelves under the stairs and appear with a book that he'd put aside for them eight years previously. He always made light of his ability to remember anything and everything but it was an exceptional talent that would have made him amazingly successful in any sphere and bookselling was so lucky to have been its beneficiary.
I think all of us who were close to Heywood Hill were exceptionally privileged to have been part of an institution that would be impossible to re-create now and in which our father was the central figure but in which so many people here played a pivotal part in making it so special.
George
We thought long and hard about whether to mention his departure from Heywood Hill. At 65, he was forced to retire from the shop by the 'new' Duke.. After spending his entire working life dedicated to Heywood Hill and having been so close to Andrew Devonshire, it was a devastating moment and one that certainly knocked him off his stride, particularly as loyalty and friendship were values that had always been so important to him. The incredible support of first Maggs Brothers and then John Sandoe in giving him space in their wonderful shops allowed him to reinvent his career, helped by the customers who loyally kept buying from his catalogues and visiting him in Mayfair and off Sloane Street.
Our mother has been quite firm about not making a fuss about her in this tribute. I think we all know that she was the absolute bedrock that allowed our father to thrive and on which he totally depended. Without her he would not have been able to do all the things we are celebrating today. I think everyone here knows that but it is important to say.
The last few years of our father's life were tricky at times but he was immensely fortunate to spend the last two years in The Charterhouse. At Christmas 2018 he suffered a huge seizure in UCH and the doctors were very pessimistic about his chances of survival. We were lucky enough to find out about the Infirmary at The Charterhouse and he managed to pass what felt like an Oxbridge style interview. The Charterhouse was absolutely perfect for him and gave him a new lease of life. Those of you who visited him always remarked about how happy he appeared and that he still had that twinkle in his eye as he told stories about his bookselling days. The cloistered atmosphere reminded him of his time at Winchester and Cambridge, and he was remarkably stoical, hardly noticing broken bones from falls and pretty much uncomplaining, apart from if he felt he might not be at his place in time for lunch.
Joe
One of the surprising things about his final years was how much he wanted to be surrounded by flowers, given how little interest he had shown in them in the previous 74 years: he would ring me - often at around 7am - to say his flowers had died and he needed fresh supplies of flowers, wine and books.
We will always be immensely grateful to all the staff and Brothers of The Charterhouse who welcomed him into their community and looked after him so well and we are pleased today to be able to celebrate his life in a place he loved.
It was perhaps inevitable that even in the darkest times, books were a central theme. In the depths of drug induced psychosis, he always saw libraries and books (along with tigers and crashing aeroplanes) in his delusions. I remember at UCH one doctor taking me aside and saying he was a bit worried that they had overdone the drug dosage as my father was getting really agitated that he had not delivered a book to the Marquess of Tameron in Spain. I had to explain that this actually wasn't delusional at all and the book was in transit, which left the poor doctor slightly bewildered.
Tomorrow he will be buried in Dedham churchyard. Dedham was a special place for him. Whether it was clearing the debris in the brook with a hoe or making huge bonfires that smoked out the neighbours or reading a book (and usually falling asleep) beside the fire after supper, it was somewhere he seemed to be most happy and relaxed. We know it will be a fitting resting place for him.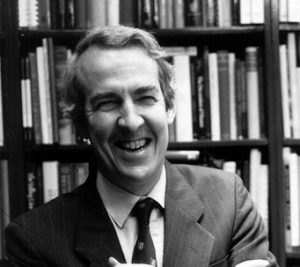 John Saumarez Smith
23 May 1943 to 15 November 2021